The article below was originally published in 
The Weekend Spin on 10/22/2004 by Bill Chapin 
The Weekend Spin is published weekly by the Times Herald Company 
UNIQUENESS IN ME 
BRIAN LINNE 
     Brian linne's long-in-the-making musical debut has a vibe straight out of the singer-songwriter's handbook. 
     Perhaps it is Linne's Neil Diamond-like voice. Perhaps it is Dave Kujat's smooth saxophone solos, the type that turn up on Billy Joel's greatest hits. Perhaps it is the thick layers of vocal harmonies that recall early Yes and Crosby, Stills, Nash and Young. 
     Lyrically, the songs on Uniqueness in Me reflect a faith full of humbleness and acceptance. While it features such straight-forward gospel songs as Let Your Love Reign Down on Me, it is not a typical Christian album. Never Mind Time is an energetic lament about aging. Little Spell is a ringing love song about a woman who is "a beacon in the night, a refuge of delight, she brings me my Bud Light." 
     The album's professional quality is enhanced by the musicians Linne recruited. In addition to Kujat -- well-known in the Blue Water Area as half of the duo Sax Appeal -- the band includes Dave Taylor of Rumblefish and Robert Kerrigan, formerly of The Creeps, who produced the CD at his home studio in Port Huron. 
     Uniqueness in Me currently is available at Music Station in Fort Gratiot and eventually online through CD Baby. In a few weeks, you'll be able to check out www.brianlinneband.com for more details.
The Mitch albom show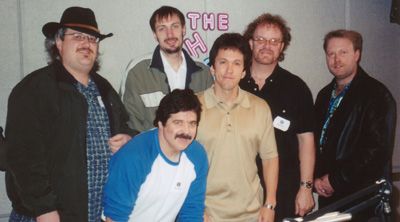 The article below was originally published in 
The Weekend Spin on 4/14/2006 by Bill Chapin 
The Weekend Spin is published weekly by the Times Herald Company
CREATING A STAGE PRESENCE 
SONGWRITER, BAND READY FOR TIME IN THE SPOTLIGHT 
    On Tuesday night inside Robert Kerrigan's RAK Studios in Port Huron, the Brian Linne Band was preparing for its big debut April 26 at Military Street Music Cafe. 
    "This is three-part harmony here, too," Linne told the band. 
    With that, Linne, Kerrigan and David "Kooj" Kujat started belting out an acappella version of the serenity prayer - the one that starts, "God please grant me the serenity to accept the things I cannot change." 
    Linne certainly has been granted a dose of courage to change the things he can. An amateur guitarist and songwriter for 20 years, Linne decided he was going to do and spend whatever was necessary to get his songs out of the living room where people could hear them. 
    "He has a lot of drive and determination," said Kujat the saxophonist. "He's really going at it full force. I give him a lot of credit, and I believe he's got good material." 
    Linne started almost five years ago by hiring Kerrigan to help him make a CD. Kerrigan brought in Dave Taylor of Not Guilty to record the drums. Linne pays them all to record his songs - a second CD is nearing completion - and rehearse twice a month. 
    "I can't get the buddy down the street to play with me," said Linne, a pharmacist by day. "I need high-quality players, and that's what these guys are. They feed off each other and take it to another level." 
    Between Linne's 12-string guitar and Kujat's sax solos, the music has a soft, jazz-rock fusion vibe, recalling such '70s singer-songwriters as Van Morrison. (Among the few cover songs the band does are Brown Eyed Girl and Moondance.) 
    For all his confidence in his songwriting, Linne has little faith in his performance abilities, especially compared to his band. 
    "I'm the weak link to the whole thing," he said. His gig last year at the Roche Bar in Port Huron "was the first time I played out of high school." 
    He now does solo sets on Saturdays at Bean & Brew Co. in Port Huron. Performances with the full band are rare, however, which is why     "I'm getting better all the time," he said. "I'm the type of personality that doesn't quit. I just got to keep working at it."